In our Bible College SA prayer wheel, we have captured all of our ongoing prayer needs in a simple way.
We have organised our prayers into three major categories: students, staff and supporters.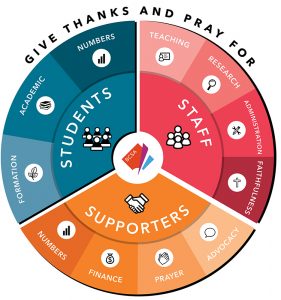 For our students, we give thanks to God for the number we already have, and pray for more, and we also ask for their academic work and overall ministry formation. For our staff, we remember their teaching, research, and administrative duties before God. And for our supporters, we ask God to keep growing their numbers, and pray that they would continue to be with us in financial support, prayer support, and advocacy. If you would like to print out a larger copy of the prayer wheel so you can stick it on your fridge or in with your Bible notes, you can download it by clicking on the link below. Please join us in praying around the wheel, and adding in more specific needs as you know of them too.

QUARTERLY PRAYER MEETINGS
Partners and Friends of Bible College SA are invited to join us as we pray for the continuing work and ministry of the College.
Tuesday mornings, from 7.30 – 8.30am, at 176 Wattle Street, Malvern.
• 21 February 2023
• 9 May 2023
• 1 August 2023
• 24 October 2023